Explore the various job opportunities within each category to find out what each job entails, what you'll need to know to build your own construction career and to see how much you could earn!
Nature of Work
Managers must have up-to-date financial information to make important decisions. Accountants and auditors prepare, analyze, and verify financial reports, and then furnish this and similar information to the chief financial officer and other managers in the organization. They also verify the accuracy of their firm's financial records and check for waste. Accountants/auditors typically work in the home office of a construction firm, and rarely visit the field office(s). The chief accountant position assists the chief financial officer in handling the day-to-day operations of the accounting department. He/she is responsible for the detail work and supervision of the accounting personnel. He/she is usually responsible for compiling the information required for cash planning, monthly financial reports including budget and operating comparisons, general ledger accounts, and the financial statements.
Education and Training
Most construction firms require applicants for accountant and internal auditor positions to have at least a bachelor's degree in accounting or a closely related field such as business administration. Applicants should be familiar with computers and accounting software.
Advancement Potential
With additional training, education, and experience, accountants and auditors may be promoted to top management positions, such as chief financial officer.
Nature of Work
A good secretary or administrative assistant allows the executive decision-makers to be efficient by providing those supporting services that will save time and provide organization of the work. Much of the work of an administrative assistant or executive secretary is routine, but often highly important. Listed below are some of the secretarial tasks of those presently working in the construction industry.
Sorts mail and often responds to letters that are of a routine nature.
Maintains a schedule of appointments for those for whom she or he is directly responsible.
Does preliminary interviews of job applicants.
Maintains office efficiency by ordering supplies and being prepared for rush jobs.
Types financial reports.
Sets-up meetings.
Often will organize social affairs for the company.
May be responsible for the care of personnel records, including the coordination of vacation time.
Types various kinds of contracts and proposals.
Meets and welcomes guests of the company.
Handles correspondence.
Education and Training
A high school diploma appears to be an absolute necessity. In addition, a strong background in the basic secretarial skills is mandatory. This includes shorthand, transcription, typing, understanding business machines, and a strong working knowledge of English grammar and spelling. Background training in business administration as the result of attendance at a junior college or school of business would also be helpful. Beyond these basic skills, however, is another important feature, namely attitude and grooming. It is often true that the secretary will establish the basic tone of the office. In this regard a secretary must consider his or her attitude and grooming as an integral part of their career pattern. They must develop those personal skills and habits that have a positive effect on a variety of different people. People under pressure need support, and the secretary/administrative assistant is often the best person to provide that necessary lift to make a working day more pleasant and profitable. Human relations skills, then, are no less important than the more mechanical skills of an efficient secretary.
Advancement Potential
Job conditions are generally good, though on occasion hectic. The rewards, however, are quite good with salaries at or well above those paid by other industries.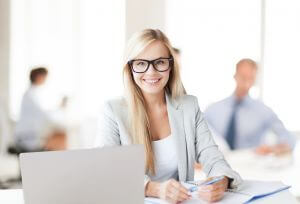 Nature of Work
Every construction firm needs systematic and up-to-date records of accounts and business transactions. Bookkeepers and accounting clerks maintain these records in journals and ledgers or in the memory of a computer. They also prepare periodic financial statements showing all money received and paid out. The duties of bookkeepers vary with the size of the firm. However, virtually all of these workers use calculating machines and many work with computers. In many small companies a general bookkeeper handles all the bookkeeping. He or she analyzes and records all financial transactions such as purchase orders and cash receipts. General bookkeepers also prepare and mail customer's bills and answer telephone requests for information about orders and bills. In large organizations, several bookkeepers and accounting clerks work under the direction of a head bookkeeper or accountant. Some bookkeepers prepare statements of a company's income from sales or its daily operating expenses. Others record business transactions, including payroll deductions and bills paid and due, and compute interest, rental, and freight charges.
Education and Training
High school graduates who have taken business arithmetic, bookkeeping, and principles of accounting meet the minimum requirements for most bookkeeping jobs. Increasingly, employers prefer applicants who have completed accounting programs at the community college level or those who have attended business school. The ability to use bookkeeping machines, computers, and typewriters is an asset.
Advancement Potential
Some bookkeepers and accounting clerks are promoted to supervisory positions after additional training and experience. Others who enroll in college accounting programs may advance to jobs as accountants. 
Nature of Work
Continually identifies builds and develops new client business within a vertical market by pursing business opportunities with strategic targets in key industries and cultivating relationships with existing clients.​ Delivers compelling calls and presentations to introduce capabilities and value proposition.​ Negotiates and communicates complex concepts/​business issues to a variety of audiences.​
Identifies and evaluates new markets and partnership opportunities through direct prospecting, networking, attendance and participation with various industry and professional groups and networking associations.​
Oversees all aspects of the sales process within the vertical market, including development of opportunity-specific sales strategy, selection of pursuit teams and "quarterbacking" the entire sales process until the final close of the construction project.​
Defines, tests, refines and implements strategic plans to successfully achieve opportunities within the vertical market segment.​ These activities include primary research, industry, market and competitive analysis, and customer needs assessment.​ Ensures strategic objectives of the vertical market segment are well understood and executed by the pursuit team.
Provides expertise and direction for the day to day management of bid packages in the development pipeline.​ Provides client specific opportunity assessment, market evaluation, market research, financial evaluation, and other marketing needs required throughout the proposal preparation and delivery process.​ Incorporates customer needs and input/feedback from both internal and external groups.​
Partners in conjunction with the marketing team to create effective marketing strategies to win in the marketplace, including market segmentation, value proposition development, technology positioning, pricing strategy, branding strategy, channel strategy and communications strategy development.​
Motivates others and provides leadership to accomplish team goals without having direct authority over team members.​
Prudently manages resources within budgetary guidelines according to company policy and within ethical corporate governance guidelines.​
Demonstrates positively company's mission, vision, value statements, reputation, code of ethics, standards, policies and procedures internally and throughout the marketplace.
Education & Training
Bachelor's degree in Business, Marketing, Economics or related discipline required.​10 years substantial and broad business experience in Business Development and/​or Account Management with at least 3-5 years demonstrated success in selling and developing new business with revenues ranging from $5 million to over $100 million.​
Demonstrated experience leading complex sales processes that involve multiple team members and multiple decision makers (primarily C-suite decision makers).​
Demonstrated network of COI's (Centers of Influence) to include developers, owners, owners representatives, architects, engineers and other professional services relationships that could be leveraged to create business opportunities.​
Subject matter expert in at least one vertical market: Healthcare, Education, Corporate/​Office, Municipal, or Multi-Family Housing a must.​ Must be versatile to rotate to other vertical markets as business needs dictate.​
Demonstrated ability to successfully expand new business and grow existing business within a vertical market.​
Engaging and highly effective interpersonal, communication and presentation skills that cultivate and grow lasting business relationships both internally and externally.​
Highly collaborative leadership style with the ability to respond quickly and effectively to ever-changing situations.​ Must possess the ability to coach, mentor and lead a diverse staff to deliver best in class services to our clients.​
Exhibit strong business acumen, skills and maturity and the ability to work effectively with others.​
Highly developed organizational and planning skills, time management skills and written/​oral communications skills.​
Experience building strategic marketing programs/​concepts, and selling the strategic programs to Sr.​ Executives.​
Advancement Potential
Business Development Executives often have the title of Vice President, and are considered part of the company's upper management team. If successful, their income is usually among the top two or three in the company.
Nature of Work
The estimator's job is important in every construction firm. Every type of project requires an accurate and comprehensive estimate of the amounts of materials, equipment, and labor necessary for the construction of the project. Estimators work with the engineer's and architect's drawings or blueprints to prepare a complete list of all job costs, including labor, material, equipment, and specialty items necessary to complete the project. Knowledge of construction techniques and proper scheduling of purchases and work are essential skills. Estimator work is generally in the office, but some field coordination is often required. Estimators may be subject to considerable stress in the days and hours before an estimate or bid is submitted, so the ability to work accurately and quickly under pressure is needed.
Education and Training
An estimator needs a good background in mathematics including algebra and geometry, drafting, blueprint reading, and English. Neatness and accuracy are important. Most estimators combine junior or community college courses in construction and engineering technology with on-the-job training to acquire needed skills. With the increasing use of computerized estimating systems, computer literacy is becoming another much-needed skill. College, although not a definite requirement, should be considered for early advancement.
Advancement Potential
The estimator's familiarity with the plans, specifications, and materials of a construction job provides excellent preparation for a position as project manager. Indeed, the owners and officers of many construction businesses received their initial industry experience as estimators.
Click here to learn more about all of the educational opportunities in the Boston area
Nature of Work
A facilities manager oversees a commercial or residential property and makes sure that everything is in working order. Hours may vary, and sometimes this job requires the facilities manager to be on call to respond to emergency maintenance situations. The manager may be expected to have some experience in handiwork, including electrical, heating and cooling, plumbing, carpentry, and painting. These jobs are either carried out or delegated by the facilities manager.
The facilities manager may also oversee the landscaping and grounds-keeping department. To prevent emergency situations from occurring, the manager will often inspect the property for things that need to be repaired. The manager will often supervise other employees and will work with third party workers, who will help facilitate the smooth operation of the property. Therefore, some management experience will come in handy.
The manager will often be given a budget to stay within, so it is important to adhere to it and to find the most cost-effective materials and labor rates without compromising quality. The ability to use a computer proficiently is important to do things, such as being able to create activity reports, to track budgets, and to communicate with other parties. Strong communication skills are needed, in order to work well with residents and other employees.
Education Requirements
Some jobs will require a high school diploma plus relative experience. Others require a bachelor's degree in engineering or a related field. Some jobs require licensing in various fields, such as HVAC, plumbing, and electrical work.
Advancement Potential
Depending upon the size of the firm (and the job titles used by that firm), facility coordinators and managers may advance to director level .Click here to learn more about all of the educational opportunities in the Boston area
Nature of Work
The management information systems (MIS) manager is responsible for the effective utilization of computer technology in the organization. The MIS manager leads the planning process for future acquisition and utilization of computer hardware and software that will enable the organization to meet it's short and long-term objectives. The MIS manager provides leadership, direction and control of the MIS function with budget and staffing responsibility. He or she assures training is being provided to department personnel as well as user groups. Another important area is the development and enforcement of security for all hardware, software, and information. Other responsibilities include the selection, maintenance, and operation of computer equipment and software. Smaller companies probably will not have a manager of information systems. Leadership in the utilization of computer technology can come from any level or department in a construction company. Very often individuals who find working with computers challenging take a leadership role in defining how they can be used in the company. Frequently, operations personnel are selected to spearhead the selection of computer equipment or software because they understand the needs and methods of the organizations.
Education and Training
The manager of computer information systems will most generally have at least a college degree. It is very possible, however, for an individual to work their way up through the organization if they have a knack for using computers and acquire the knowledge in other ways. Computer training is essential for adequately using computer equipment at any level in the organization.
Advancement Potential
Managers of computer systems may advance to the Vice President level of the organization. As an organization's use of computers matures there is a realization that information systems are an integral part of the organization and the V.P. of Information Systems is included in long range planning.
Other Computer-Related Positions
Although computers are used in almost any job in a construction company there are numerous other positions that relate specifically to working with computer technology. Some of those positions are: computer operator, computer programmer, systems analyst and hardware support technician. It is always most desirable to hire people for these positions with a background in the construction industry.
Nature of Work
The marketing team is responsible for market research, advertising, public relations, sales, and client service. Coordination of strategic business planning, including the development and implementation of a company marketing plan, is usually the marketing manager's responsibility. An important area of activity is the day-to-day identification of new business opportunities, whether private clients or bid work. The manager is not a sales person in the usual sense. Trust, confidence, and relationships are primary to the sale. Building the public's awareness and recognition of the company is also the marketing manager's job. Communications and people skills are essential for the job, along with an optimistic and strong self-starting attitude to keep tracking down construction leads and knocking on doors. This position invites creativity and strong problem-solving skills, and requires an individual capable of juggling many activities (leads) at the same time. It is a necessity that the marketing team be able to get all employees involved in the marketing process.
Education and Training
There are two schools of thought on the type of background a marketing manager needs in order to be successful. Many construction executives believe it's best to hire a non-technical college graduate with prior sales experience, regardless of the type of sales involved. Others advocate the training of an energetic, personable project manager or anyone with a construction background and a sales personality. Both methods have been successful. A college degree and excellent writing and public speaking skills are desirable. As owners and developers (buyers of construction services) become more knowledgeable and increasingly hire their own consultants with construction experience, knowledge of construction systems may, however, become a prerequisite for the construction firm's marketing manager position.
Advancement Potential
Marketing managers often have the title of Vice President, and are considered part of the company's upper management team. If successful, their income is usually among the top two or three in the company. They sometimes become chief executive officer of their construction firm or owner of a construction company.
Nature of Work
The job of a construction office manager is extremely varied, depending upon the size of firm, the type of construction work the company performs, and whether or not the position is in a field office or in the main headquarters office. Regardless of the working environment, the role of the office manager is very important. An office manager is the person responsible for seeing that the office procedures and duties are completed in a correct and timely manner. An office manager must solve problems as they arise, and make certain that the financial information which has been compiled is correct. It is important to plan office functions in the correct sequence, so that one employee will not be delayed waiting for data which is being compiled by another employee. Almost all office manager work is done in the main office, or on a large job, in the field office.
Education and Training
The most important qualification of a construction company office manager is knowing how to deal with people. In addition, office managers need a bookkeeping background with emphasis on accounting subjects. High school with some college is very desirable, as good reading and writing skills may be essential. Basic knowledge of computer systems may also be helpful.
Advancement Potential
Office managers are usually considered as part of management.
Nature of Work
An expeditor or purchasing agent is the person in charge of scheduling purchases, purchasing, and scheduling the delivery of materials and services for construction jobs. An expeditor then checks orders and speeds the arrival of building materials or equipment to meet a progress schedule. Expeditors also make sure there are enough people scheduled to work each day to get the work done. An expeditor usually works in the office, scheduling material and equipment deliveries, and in the field, scheduling the work. The position requires dealing with many different types of people.
Education and Training
An expeditor needs a background in construction so that he or she is familiar with all types of building materials and prices. Expeditors also need to have knowledge of and be familiar with various work categories and scheduling. Good skills in math and English are very important, and the ability to deal and get along with others can be essential. A high school diploma is usually required.
Advancement Potential
The rapport an expeditor or purchasing agent must establish with the other key individuals of the construction processes provides a broad business understanding which is valuable in all managerial positions. For many construction firms expeditor is an entry-level position open to graduates of academic engineering or construction programs. Competence and efficiency as an expeditor can lead to a superintendent's position, management of a particular project, or even a job as project manager for all of a construction firm's work. Owners of some construction firms began their careers as expeditors.
Click here to learn more about all of the educational opportunities in the Boston area