Commercial construction is one of the few industries allowing you to move between field and office work.  Many management side careers begin with higher education. Explore the different categories to find out what each management roles entails, what you'll need to know to build your own construction career and to see how much you could earn!
Nature of Work
A CEO is an individual who utilizes skills and knowledge, acquired through education and experience, to manage the execution of all or a portion of a construction project. Because the typical construction project is comprised of many different types of personnel, equipment, materials, and activities, the CEO must possess a wide variety of skills and knowledge. These include being able to read and interpret architectural/engineering drawings and specifications; understanding and complying with numerous local and state building codes, legal requirements, and construction standards; understanding and adherence to a variety of construction contract conditions and requirements; efficiently estimating cost and scheduling all or a part of a project; and the performance of management duties required to effectively coordinate and communicate with all members of the construction process.
The work environment of a CEO is varied, ranging from work in comfortable permanent offices to working on the project site in a small temporary office. CEOs spend a great deal of their time working with the project designers (owner representatives), clients (owner), and with other contractors, foremen, and/or other employees who are responsible for the day-to-day work in the field. Writing and reviewing reports in order to discuss work schedules and progress can consume a large portion of the CEO's time. Extensive travel is not unusual. CEO's typically work long hours, and must meet critical production deadlines. Weekend work is common.
Education and Training
The vast majority of today's CEOs are college educated, and those planning a career in construction should strive for a baccalaureate degree. While the construction industry will always require many persons educated solely as architects, engineers, or in pure managerial skills, the most effective education for contractors, at all levels of managerial responsibility, is a meaningful synthesis of general education, math and science, construction design, construction techniques, and business management at the undergraduate level. Typical construction program courses include mathematics and English, history and economics, physics, strength of materials, structural design, mechanical and electrical systems, materials and methods, planning, estimating, scheduling, technical report writing, contract documents, business management, and contract law.
Degrees in Construction are now available at over 100 colleges and universities. Although they may have different titles all are generally classified as Construction, Construction Science, Construction Management, Construction Technology, Building Science, or Construction Engineering. The American Council for Construction Education (ACCE) accredits pure construction degree programs while the Accreditation Board for Engineering & Technology (ABET) accredits construction engineering and construction technology programs. In 1996 there were 43 ACCE accredited programs. There are also six construction engineering programs, and about 45 construction technology programs accredited by ABET. Entrance requirements range from average to above average high school grades and scores on standardized tests (i.e., SAT, ACT). Students may transfer to construction degree programs from two-year junior and community colleges. Although higher education is desirable, the construction industry remains one of the few American industries where one may start with little formal education and still reach the top by becoming a chief executive or owner of a construction firm. This path to the top, from trainee, to craftsman, to CEO, requires hard work and a great deal of personal dedication, and it becomes more difficult as technology advances. Advancement Potential New graduates usually begin employment with construction firms as assistant estimators, assistant project managers, or at some other mid-management position. As such, they are immediately involved in the day-to-day operations of the firm or a construction project. Responsibility comes quickly, and advancement is relatively rapid in this fast-paced occupation. However, it takes many years of experience and responsibility before a graduate is considered for position of CEO or company ownership.
Click here to learn more about all of the educational opportunities in the Boston area
Nature of Work
The Chief Financial Officer (CFO) directs and coordinates the financial objectives and obligations inside and outside of the company. His or her primary responsibility lies in maintaining a financially solvent organization.
Externally, the Chief Financial Officer is charged with the sole responsibility of establishing and maintaining sound business relationships with banking/lending institutions and other resources of capital. The CFO, as a result, serves as the company's chief financial negotiator within the financial community, securing stable and profitable working relationships for the company.
Internally, the Chief Financial Officer works with the Senior or Chief Accountant in directing and coordinating company finances. Developing budgets for both annual and interim periods as well as planning cash management investment strategies require much of his/her time. Occasionally, the CFO will give an economic appraisal of the company and in doing so, will prepare relevant financial ratios and reports.
Education and Training
Today's Chief Financial Officer typically requires a four-year college degree in Accounting, with many having advanced degrees such as a Masters of Business Administration (MBA). Equally important to the CFO, however, are good analytical skills, an excellent rapport with superiors and subordinates, established communication skills, a solid business background, and the ability to lead people.
Advancement Potential
The Chief Financial Officer is usually considered one of the top officers in a construction company's organizational structure. He or she generally starts as an accountant. The CFO is always considered a prime candidate for other top management positions, including the presidency.
Click here to learn more about all of the educational opportunities in the Boston area
Nature of Work
The position of safety director is an important one. In some construction firms the safety director may be an officer or senior manager of the company. The safety director's primary responsibility is to keep the loss of human and property resources to a minimum. The safety director is an individual capable of managing jobsite safety by providing safety training for employees, inspecting jobsites, correcting safety hazards found during regular inspections, managing worker's compensation insurance processes, and ensuring that the company is in compliance with required Occupational Safety and Health Administration (OSHA) safety and health standards.
Education and Training
A college education is not essential although pertinent safety training courses are desirable. A good safety director understands OSHA regulations and how they work in construction. He or she also has basic knowledge of construction operations, materials, and methods. Most safety directors have previous construction experience and a keen interest in construction safety.
Advancement Potential
Safety directors are often capable money makers and capable of working with individuals at all levels of the corporate ladder. The high cost of health care and expenses related to jobsite injuries, as well as the high cost of replacing and/or repairing a company's resources including its property, equipment, and tools is prompting many construction companies to hire safety directors. Safety directors often advance to higher level management positions either in their company or in others.
Click here to learn more about all of the educational opportunities in the Boston area
Nature of Work
A foreman supervises and coordinates the work of a crew of workers in a specific craft or trade. Foremen are primarily concerned with seeing that the workers under them do their job skillfully and efficiently, and that assigned work progresses on schedule. They deal with the routing of material and equipment, and with the laying out of the more difficult areas of the job. The work requires quick, clear thinking and quick onsite decisions. Foremen should have a broad working knowledge of a craft; must be able to read and visualize objects from blueprints; and should have an eye for precise detail. Working Conditions Working conditions for foremen can vary greatly depending upon the craft line being supervised. However, the great majority of work will be onsite and out-of-doors, often resulting in prolonged standing, as well as some strenuous physical activity.
Education and Training
To become a foreman, a craftsman must illustrate an above average knowledge of all facets of a particular trade and do noticeably good work consistently. A foreman should have the same basic aptitude and interests as those working in the craft being supervised, plus additional reading, writing, and math skills. The ability to motivate workers and communicate with them and superiors is essential. A foreman must often lead by example.
Advancement Potential
Being an entry level/first line management position, a foreman who exhibits solid rapport and communicates with his or her workers and superiors, who leads by example, who has outstanding skills and trade knowledge, who gets the job done properly and on schedule, and who works to improve his/her management skills will often be in line for promotion into a supervisory position. With the proper background and initiative a foreman may progress to a superintendent, general superintendent, vice president, or even an owner of a construction company.
Click here to learn more about all of the educational opportunities in the Boston area
Nature of Work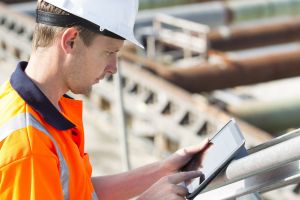 The scheduler or scheduling engineer assumes the responsibility for the overall scheduling of a construction project. He or she may be involved in one project or numerous projects. The scheduler's responsibilities include a wide range of duties involving initial job planning, scheduling of time, scheduling of materials, coordination of subcontractors, monitoring of job progress, analysis of changes, and problem solving. Specifically, the scheduler will produce the contractor's Initial Schedule and then update the schedule throughout construction. He or she will also use the schedule to analyze the impact of change orders, delays, and any other schedule disruptions. The scheduler works very closely with the project manager, project superintendent, and the subcontractors during the preparations and updating of the construction schedule. Because of this, the scheduler must possess good communication skills. He or she will continually be producing critical scheduling information for the project team's use, very much like an accountant produces financial information for a company's managers. Therefore, the scheduler maintains an important support role to the project superintendent, project manager, and all other parties associated with the project.
Education and Training
In the past, the role of a scheduler or scheduling engineer was handled by the project superintendent, the project manager, or both. Their scheduling education basically consisted of many years of experience working on construction projects. Today, many general contracting firms have schedulers on their staff or they retain the needed talent by using outside consultants. These schedulers normally have a college degree in an engineering discipline, architecture, or construction management. They must have a good understanding of construction practices, procedures, and the methods of construction. The scheduler must also be proficient in reading construction drawings. Since most construction scheduling is accomplished using the Critical Path Method (CPM), schedulers must have knowledge and experience in this technique. CPM Scheduling, now taught in most colleges, has become a basic requirement for all schedulers. Also, since computers are used to prepare CPM schedules, knowledge and experience in the use of computers and scheduling applications is very advantageous.
Advancement Potential
Schedulers are considered part of the management staff, and many continue on to become project superintendents, estimators, project managers, or project executives. 
Click here to learn more about all of the educational opportunities in the Boston area
There are many types of construction superintendents and their job titles, job descriptions, and responsibilities vary a great deal from one company to another. This can be confusing, and there are no hard and fast rules or definitions which apply to all construction firms, all construction projects, or all supervisory positions. A general sequence of titles is indicated below, but it must be noted that many are used interchangeably, and duties will vary by firm and project(s) size. The thing to remember, therefore, is that the position of "Superintendent" involves increasing degrees of responsibility and authority - regardless of the title.
Nature of Work
Generally speaking, a job superintendent or project superintendent is the contractor's representative at a construction site. The superintendent directs and coordinates the activities of the various trade groups such as Carpenters, Equipment Operators, Iron Workers, etc. - on site. Responsibilities include making sure that the work progresses according to schedule, that material and equipment are delivered to the site on time, and that the activities of the various workers do not interfere with one another. The superintendent supervises all these activities by talking with and directing the foremen for the different trades or craft workers. Some of these foremen and their workers may be employed by the superintendent's own construction company, while others may be employed by other companies working on the job.
As stated, the responsibilities of a job and/or project superintendent are often the same. Yet, in some instances either one (especially the project superintendent) may be over the superintendent(s) in charge of a specific jobsite's activities, e.g. grading. In the same sense, a general superintendent (often found on larger jobs and/or with large firms) may have duties similar to the project superintendent mentioned above, but with an even broader range of responsibilities. A general superintendent might direct the work on a number of construction sites with those superintendents reporting to him. A "Project Manager" is another construction occupation title for a position which again may overlap and, on occasion, be used interchangeably with general, project, or job superintendent. A review of the definition for Project Manager might be helpful.
Education and Training
Most superintendents have many years of experience in one of more of the construction trades. Generally, contractors have selected their superintendents from among the foremen who demonstrate leadership and a working knowledge of their craft. While a college education is not necessarily required, it is helpful. A superintendent must have a good understanding of construction methods, scheduling, and blueprint reading, as well as a basic knowledge of communication skills. Demonstrated leadership ability is essential.
Advancement Potential
Depending upon the size of the firm (and the job titles used by that firm), job or project superintendents may become general superintendents. Superintendents often become principal officers of their construction firm, and on occasion start their own company.
Click here to learn more about all of the educational opportunities in the Boston area
Nature of Work
The position of project manager is sometimes the same as that of a general superintendent or project superintendent. The nature of a project manager's work is, therefore, very dependent upon the firm's organizational structure, the firm's size, and the number or size of projects the manager works with. He or she is an individual capable of overall management responsibility for delivering a construction project from its conception until it functions as it was intended. The project manager must be capable of establishing performance and delivery criteria for approval by the owner. If one's firm is involved in project design work, the project manager may be responsible for directing the production of basic design plans and construction documents. Estimating, start up, scheduling, actual construction, expediting, inspection, quality control, and total delivery of the project according to the established criteria are aspects of the project manager's job.
Education and Training
Most project managers have many years of experience as a construction superintendent. Generally, contractors have selected their project managers from among the superintendents or occasionally foremen who demonstrate leadership and working knowledge of construction operations. A college education is very desirable, although it is not necessarily essential for some firms. At many firms it has become a requirement, and a number of schools offer construction management degrees which combine construction procedures with administrative principles. A project manager must have a good understanding of construction methods, materials, scheduling, and blueprint reading, as well as knowledge in communication skills.
Advancement Potential
Project managers are usually considered top management, and often become principal officers of their construction firms. On occasion, project managers start their own company.
Click here to learn more about all of the educational opportunities in the Boston area
Nature of Work
The terms construction engineer and project engineer normally relate to the same person or job function. Construction engineering is the application of engineering, management, and business sciences to the processes of construction, through which designers' plans and specifications are converted into physical structures and facilities. The construction or project engineer engages in the design of temporary structures, site planning and layout, cost estimating, planning and scheduling, management, materials procurement, equipment selection, cost control, and quality management. These processes involve the organization, administration, and coordination of all the elements involved in construction labor, temporary and permanent materials, equipment, supplies and utilities, money, technology and methods, and time in order to complete construction projects on schedule, within the budget, and according to specified standards of quality and performance. Depending upon the size and complexity of a project, the construction engineer may be responsible for one to several jobs. This means that travel to many different work sites is part of this occupation. Many project engineers work on-site in temporary offices and spend a good deal of time out of doors, planning and checking work.
Education and Training
Construction engineers must have a strong fundamental knowledge of engineering and management principles, and knowledge of business procedures, economics, and human behavior. Students who wish to pursue a career as a construction or project engineer should concentrate on math and science courses, and must earn above average grades in high school. A bachelor's degree is virtually required for this career, and students must be very careful in selecting an accredited academic engineering degree program with a major emphasis or concentration in construction. Those who do not concentrate in construction engineering at the undergraduate level may return to school for a master's degree in engineering management or business administration.
Advancement Potential
Construction engineers typically begin their careers in a training capacity as engineers-intraining. They may begin as assistants to project superintendents, project managers, estimators, or field engineers. Advancement and responsibility are quickly earned for those who excel. It is not unusual for construction engineers to be in total charge of small projects within five years of employment. Construction/project engineers frequently become the chief operating officer of companies.
Click here to learn more about all of the educational opportunities in the Boston area